Live :: Convulsif (CH; Doom / Drone Metal) - 19.10.2016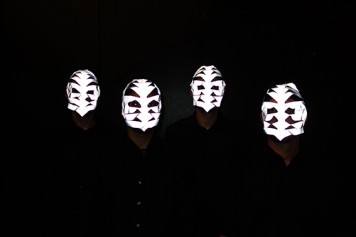 Convulsif is a collective focusing to an enriched tension between composition and improvisation in powerful sounds and experiments at the limits of styles and musical languages.
With its special and outstanding instrumentation – a classic rhythm section and a heavy amplified, treated violin & bass clarinet – the band goes deep in the sound of the actual rock scene and mix different tendencies to a new unknown conglomerate: Doom, Drone, Black Metal and Noise are played with the means of conceptual improvisation and imposed themes. All colored by a very uncommon instrumentation.
Convulsif are:
Jamasp Jhabvala : violin & electronic
Christian Müller : clarinet & electronic
Loïc Grobéty : bass
Maxime Hänsenberger : drums
Official Website
Audio Link
Video Link
Doors 2100 :: Damage 10€
Current Location
links
Upcoming
Program
Ausschreibung