Live: La Cafetera Roja - 09. August 2018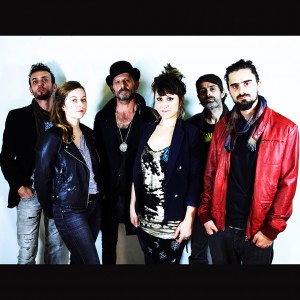 Pop / Folk / HipHop / TripHop aus Spanien / Frankreich
Ende Juni auf der Fusion, im August dann bei uns an Bord: Welcome aboard the Culture Ark!
La Cafetera Roja wurde 2008 in Barcelona gegründet. Den Ruf "Made in Europe" verdanken sie ihrer Herkunft (Frankreich, Österreich und Spanien) und den 5 verschiedenen Sprachen (Englisch, Spanisch, Deutsch, Französisch und Italienisch), welche sich in einem Klang vereinen. Durch die spontane explosive Energie ist La Cafetera Roja eine Band, die man erst "live and direct" so richtig auskosten kann. In einer Mischung verschiedener Kulturen und Stilen findet sich ein einzigartiges Rezept zum geniessen. Genre: Trip-Hop, Hip-Hop & Latin.
In einer eleganten Show voll von Überaschungen wird das Publikum verführt und in eine Welt voll Rage und Hochgefühl getaucht. Nach mehr als 300 Gigs und support Gigs für Wax Tailer, Dope D.O.D., Ayo und mehr ist die Band unaufhaltbar.
La Cafetera Roja: Aurélia Campione Voice Lead, Guitar (France)
Anton Dirnberger Voice Lead, Piano (Austria)
Chloé Legrand Guitar, Bass, Chorus (France)
Fiti Rodriguez Bass, Violin, Guitar, Voice Lead (Spain)
Jean Michel Mota Cello (France)
Nicolas Boudou Drums (Spain/France)
Aktuelle Veröffentlichung: "One Shot" (2017/ Greeenpiste Records)
Einlass 20:00 | Beginn 21:00 | 15€
Links : Tickets bei Tix4Gigs bestellen :: Facebook Event La Cafetera Roja ::: Homepage La Cafetera Roja :::: Facebook Seite La Cafetera Roja ::::: La Cafetera Roja - Soundcloud :::::: La Cafetera Roja - Spotify ::::::: La Cafetera Roja - Live-Playlist auf YouTube :::::::: La Cafetera Roja - 'Traveller' auf YouTube
Current Location
links
Upcoming
Program
Ausschreibung