Live :: Wrekmeister Harmonies (USA) - 08.12.2016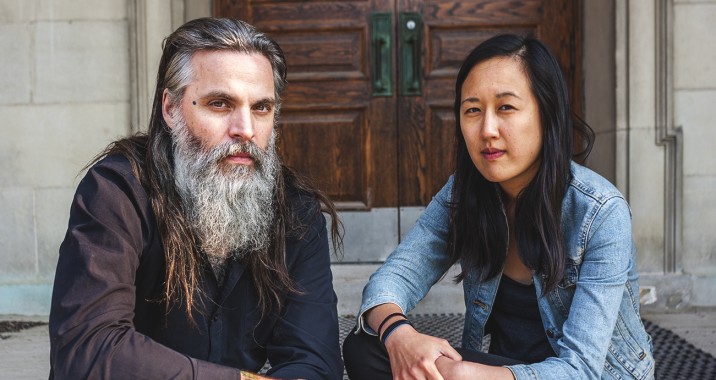 photo by Katie Hovland
Live band featuring members of Godspeed You! Black Emperor
(drums - bass - violin)
The shape-shifting drone, modern classical, outrock and extreme metal collective, led by the enigmatic and visionary musician JR Robinson, came into chaotic life in 2006 with the modus operandi of performing and recording long pieces in museums, mausoleums and other impressive public spaces. Over three inimitable albums, released at a feverish pace (You've Always Meant So Much to Me, 2013; Then It All Came Down, 2014; Night of Your Ascension, 2015) JR proved himself to be a master collaborator - curating and orchestrating the talents of such varied underground luminaries as Jef Whitehead of Leviathan; Alexander Hacke of Einstürzende Neubauten; David Yow of The Jesus Lizard; Chip King and Lee Buford of The Body; Marissa Nadler; Sanford Parker of Minsk; the free-improv cellist Fred Lonberg-Holm; Chris Brokaw of Codeine; and jazz composer Ken Vandermark.
Following the critical success of last year's Night Of Your Ascension, which featured no less than 30 musicians, JR felt it was time to seek out new methods, processes and creative strategies. Focusing his energies on a smaller collective.
Wrekmeister Harmonies core is JR (vocals, guitar) and Esther Shaw (keyboards, piano, violin, vocals). They are joined by Godspeed You! Black Emperor musicians Thierry Amar on bass and contrabass; Sophie Trudeau on piano, violin and vocals; and Timothy Herzog on drums.
The title of the album originates from the text of If This Is A Man, Primo Levi's meditation on the year the author spent as an inmate at Auschwitz. The Italian Jewish chemist and anti-fascist resistance fighter suggested in this seminal work that inhumanity comes about when things change slowly and people begin accepting things that they would normally find reprehensible. JR adds: "I wanted to sonically convey the idea of slow, creeping change. When I came up with the title I was thinking of how when daylight turns to night time it's a very gradual process. You are lulled into watching this slow, peaceful sunset but then all of a sudden you look up and it's dark."
The album opens up with "Light Falls I: The Mantra" with JR intoning the phrases, "Stay in, go out, get sick, get well, light falls" over a swelling riff that features the albums only two guest musicians, singer songwriter Ryley Walker and Cooper Crain of Cave and Bitchin Bajas, solidifying the idea of slow change, easing the passage toward something cataclysmic - both sonically and spiritually.
The album builds inexorably towards the Muddy Waters referencing centrepiece, "Where Have You Been My Lovely Son?" which has "an incredibly personal" meaning for JR: "It is about the disintegration of a relationship that I had with my son's mother. My son and I had a really intense, close relationship and as a result of this break up I've lost that connection. There has been a lot of difficulty and a lot of uncomfortable moments, so it was a personal message to my son." And then finally, Wrekmeister Harmonies' most focused album to date resolves in the tempestuous, apocalyptic "Some Were Saved Some Drowned."
From the striking eschatological sleeve art created by outsider artist and Rudimentary Peni founder Nick Blinko to the new and invigorating band format Wrekmeister Harmonies are ready to progress to the next stage of their journey.
John Doran, London, May 2016
Doors 2000 :: Begin 2100 :: Damage 15€
Wrekmeister Harmonies on ThrillJockey
Official Website
Audio Link
Facebook Event Link
Current Location
links
Upcoming
Program
Ausschreibung