Live 02. September 2022: Bloody Dead and Sexy & Ghosts of Dawn (DE)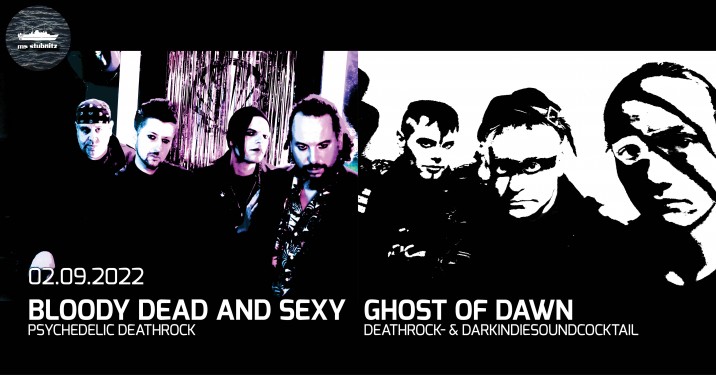 Psychedelic Death Rock | Gothic Punk | Dark Indie
Einlass 20.30 Uhr :: Beginn 21.00 Uhr
Tickets gibt es im VVK (14.- Euro plus Gebühren) oder an der Abendkasse (18.-)
TixforGigs: https://www.tixforgigs.com/Event/43147 :: Ticketmaster: https://www.ticketmaster.de/event/bloody-dead-and-sexy-ghosts-of-dawn-tickets/469011 :: Facebook: https://www.facebook.com/events/2250323061800977
---
CRUCIFIXION PLEASE!
Bloody Dead and Sexy gelten als eine der bekanntesten Vertreter des modernen Death-Rock in Deutschland. Bloody Dead and Sexy beschreiben ihre Musik selbst gerne als Psychedelic Deathrock - wegen der typischen psychedelisch angehauchten Spielweisen der Band.
www.bloodydeadandsexy.de :: www.bloodydeadandsexy.bandcamp.com :: www.facebook.com/bloodydeadandsexy :: www.instagram.com/accounts/login/?next=/bloody.dead.and.sexy
The UnDEAD Society!!
Die Hamburger Kultband Ghosts of Dawn bietet einen unheilschwangeren Deathpunk- und DarkIndie-Soundcocktail. Kutscherpeitschende Rhythmen und sirenen-manisch-singende Gitarren ertönen. In den SongTexten werden die Ausbeutung und das Aussaugen der Menschen seitens der ignoranten Politiker verdammt, die mit ihren aufgezwungenen katastrophalen Rahmenbedingungen Menschen in Wahn Suizid und kränkelndes Dahinsiechen treiben.
www.ghostsofdawn.de :: www.youtube.com/channel/UC6mKh7SsyqWodwwUolaOKrQ :: www.youtube.com/watch?v=ijwbXcB3ks4 :: https://www.facebook.com/people/Ghosts-Of-Dawn/100067323859093/
links
Upcoming
Program
Ausschreibung