Siksa + Gebrüder Manns - Live, 15. July 2022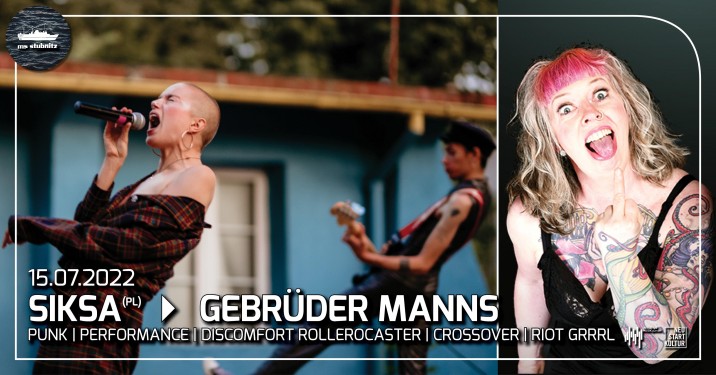 punk | performance | discomfort rollerocaster | crossover | riot girrl
SIKSA ist ein polnisches Slangwort für eine naive und sexuell attraktive junge Frau. Das Siksa-Duo ist eine der kontroversesten polnischen Acts der letzten Zeit, das mit ihren radikalen und brutal ehrlichen Performances das Patriarchat mit einem Auftritt nach dem anderen zerschlägt. Ihre Shows kommen aus den Bereichen Punk, Literatur und Theater und sezieren das europäische Bewusstsein. Um sie mit ihren eigenen Worte zu zitieren: »she's a girl on a mission«.
»Siksa's uncompromising, visceral and quite literal, attack on misogyny clears some of the venue and one doesn't need to understand Polish to get the point. Men! The pain you feel on watching Siksa is merely the patriarchy leaving your body! SUBMIT!« – John Doran The Quietus
---
Unterstützt werden sie von GEBRÜDER MANNS, die schon 1996 ein verlässliches Brett ablieferten und seit 2016 wieder am Start sind. Meist Englisch, aber auch mal Deutsch oder Dänisch gibts ein crossover-riot-girrl-nu-metal-Gelöt mit Songs die einem direkt ins Gesicht springen.
Einlass 20:00 Beginn 21:00
Vorverkauf: 10€ + Gebühr + Clubsoli HH Abendkasse: 14€
Ermäßigter Eintritt an der Abendkasse für Schüler*innen, Student*innen, Sozialhilfeempfänger*innen gegen Vorlage von Nachweisen: 8€
Gefördert durch: BKM Neustart Kultur & Initiative Musik
TixforGigs: https://www.tixforgigs.com/Event/43076 Ticketmaster: https://www.ticketmaster.de/event/468309 Facebook-Event: https://www.facebook.com/events/389271499891520
Current Location
links
Upcoming
Program
Ausschreibung